Jayne Nelson
Expert Skin Therapist
Jayne Nelson is a licensed skin therapist with more than 13 years experience in the Esthetics industry. Her skin care career began working as Skin Therapist and Spa Director in a busy full service salon and spa in Sacramento. Attending classes at The International Dermal Institute in 2009, her passion for skin care education was ignited. Jayne's love for education was cultivated while working as Instructor of Esthetics at Paul Mitchell The School Sacramento and in 2010 she began her role as Instructor and Training Center Manager with IDI and Dermalogica.
Jayne continues in her role as Instructor with Dermalogica, educating and mentoring skin care professionals throughout Northern California,  and in July 2017 opened her own skin care business With Grace Expert Skin Care in
Midtown Sacramento, Ca.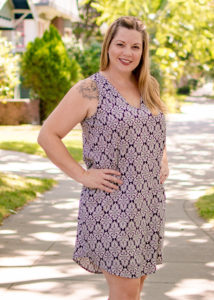 Specialties
Classic Skin Treatment
This treatment is custom designed for you! Including double cleanse, exfoliation, painless extractions, calming pressure point massage and treatment masque. My goal is to get your skin to it's healthiest state!
60 minute service
Advanced Skin Treatment
Classic Skin Treatment with the addition of microcurrent and LED to further enhance desired results. Ideal for acne and aging skin concerns. 90 minute service
BioActive™ Peel
BioActive™ Peel is a powerful skin resurfacing system. This custom chemical peel helps reduce acne, pigmentation and signs of premature aging to reveal smoother, brighter and softer skin.
45 minute service
Targeted Skin Treatment

Service includes double cleanse, exfoliation, and extractions or LED.
30 minute service
Waxing
Brow Design / Brow / Lip / Chin / Nose / Bikini / Brazilian